Patio Spring Facelift Ideas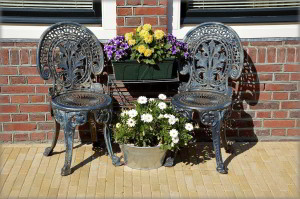 We have asked several garden design service providers to give us some advice on how to prepare a patio and porch for the spring. If you are simply not willing or cannot afford to pay for the service of professional landscape gardeners, you can really benefit from the following tips. We will help you rejuvenate your outdoor living space by using energetic accents, happy hues and lavish greenery.
Fresh-Cut Spring Bouquet
A beautiful arrangement of bright-colored fresh-cut flowers placed on the patio table will truly revitalize your outdoor space. Spring comes with its numerous and lively colors and this will be a great way for you to let it into your home. You can also arrange fresh floral compositions for all your outdoor surfaces. Just do not forget to change the water every day to help the flowers last as long as possible.
Shade-Loving Plants
In case your patio is covered, you can easily add life to it with some hanging plants. Some of their many advantages are that they require very little maintenance and will also allow you to save much of your valuable space. If you would like to promote the feeling of privacy and achieve a more garden-like look at the same time, ferns will do a really god job according to the skillful gardening experts we have talked to.
Outdoor Wine Racks and Bar Appliances
Nature awakens with the first spring days and so do we. If you want to make your patio a place suitable for spring parties, a wall-mounted wooden wine shelf may be the distinctive accent your outdoor space needs to become absolutely ready for the many you are planning on holding. Keep the rack always fully equipped with glassware for your favorite wines or fill it right before your guests come, it is up to you.
The smaller your porch or patio is, the greater priority you will have to put on maximizing the free space, especially if you want to welcome and entertain guests in your garden frequently. You can try to transform your unwieldy table into a charming bar furniture cart. An ice bucket there will be a great plus as it would keep the beverages chilled and available any time to you and your guests.
Hanging Furniture
Are you sick and tired of your old and dull crib or bench? Kill two birds with one stone by transforming it into a piece of hanging furniture and save some space at the same time. An outdoor loveseat may be exactly what you and your beloved one need for spending more time outside and enjoying the spring days and nights. It will be a great bonus if your crib mattress is coated in plastic, which will make it perfect for outdoor use without any changes. You will have to clean up your patio regularly in order to prevent dust and dirt from building up into the crannies of your furniture.
Outdoor Draperies
You really want to add color to your patio, but are not sure how to do it the easiest way? The answer is outdoor draperies. With this quick and very effective solution you will have a vivid porch in almost no time. A good idea is to choose curtains made of non-wrinkle materials like polyester, acrylic or nylon because they will keep their clean and fresh appearance even after a few rainy nights.
Spring patio landscaping can be easily done without spending a huge amount of money on it. You only have to let your creativity out and get to work.
By guest writer Ella Andrews. More patio and garden maintenance related tips read at: gardenerscolindale.org.uk