7 Simple Tips For Organizing Your Outdoor Grill Area
Having a welcoming area to treat your guests to a great outdoor grilling experience is a fantastic addition to your backyard. A well decorated and comfortable grill area can become a centerpiece of your backyard. It can also be an amazing point of conversation over any meal.
Once you organize your grill area, you'll be able to entertain guests for hours on end. We've compiled a handy list of 7 simple tips to follow when picking out the perfect additions to tie your grill area together. Read on!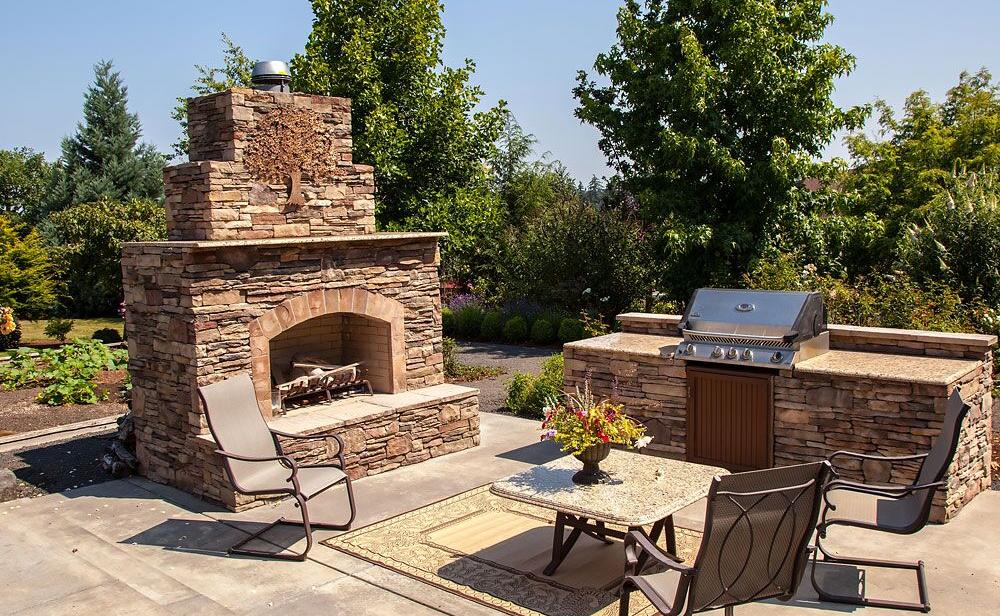 1 – Consider How You Use Your Space
How often do you grill outdoors and how many guests do you normally entertain? Keeping these factors in mind, it'll be much easier to decide how much seating and space you need. They'll also help you figure out how you'd like the layout of your grill area to look. Will you need extra room to prepare more food? Or do you entertain fewer guests who all prefer a cozier setting?
Everyone has a different idea of the perfect grilling space. When you figure out what yours looks like, it will become much easier to organize your furniture, grill, and decorations in a way that you love. Once you figure out just how you use your space, you'll begin to get a clearer picture of what you need.
2 – Pick the Right Patio Furniture
When you start shopping for furniture for your grill area, you may become overwhelmed with all the options that you have. It's best to pick a consistent theme for every piece that you pick so that your grill area looks organized. That can be accomplished in a variety of ways – by picking up a matching set or by piecing together similar pieces. For example, Allen+Roth provides quite a few lines of affordable patio furniture that include a matching table, chairs, love seats, and more.
When choosing the furniture that will go into your grill area, it's important to keep in mind that you want furniture that is both functional and stylish. Measuring your available space is an important step. This way, you know exactly what size of furniture you need to purchase in order to maximize your space.
And, of course, don't forget to take a proper care of your furniture. It is recommended to clean it at least twice a year: Before the new season starts and after the season ends. Choosing a biodegradable cleaner will allow caring about both your furniture and nature.
3 – Choose the Right Furniture Material
Not all materials used to make outdoor furniture are made for the same type of use, weather conditions, and purpose. It's important to keep these in mind when purchasing or repurposing old furniture. Limited maintenance but high-quality materials include stainless steel and aluminum. On the other end, wood or wicker furniture is equally as sturdy but require more upkeep.
4 – Make the Most of Your Space
When picking out your furniture it's important to keep the amount of space you have in mind. Do you want a cozy and compact eating space? Or would you rather go with the roomier option? How much space do you and your guests need to roam around? Measuring out your available space before making any changes will help you make these decisions.
There are plenty of changes you can make to maximize space. The layout of your grill area can be moved around as often as you'd like. In addition, you can always make the switch to slimmer and more compact patio furniture. This allows you to create the illusion of having more space. Adding extra storage can also be a fantastic use of space – you'll need somewhere to put all your grilling tools!
5 – Pick a Focal Point
To tie your grill area together, you should pick a focal point for your design. What do you want your guest's eyes to be drawn to when they first enter your backyard? You can pick virtually any aspect of your grill area to be a focal point – the grill itself, a fire pit, a beautiful patio table, or anything else you can think of. Having a centerpiece to your grill area will help add a polished touch to the area.
6 – Consider an Outdoor Fire Pit
Fire pits make an excellent addition to your grill area. They can be used for both decorating and for a practical purpose. Not only do they add atmosphere to your grill area, they can be an excellent way to provide you and your guests with warmth throughout chilliest nights.
When picking a fire pit, there are many things to consider. There is a range of materials to choose from, including tile and copper. You should also carefully consider the placement of your fire pit to make sure it's not too close to your home or wood patio. There are extra safety precautions to consider when using an outdoor fire pit. However, they're easy to take care of, move around your grill area, and safe for use around kids and pets.
7 – Add Functional Decoration
There are plenty of options when it comes to decorating your grill area. Adding just a few potted plants next to your shelf of frequently used oils and spices can make a world of difference.
Decorations that match your style can add vibrancy and life to your grill area. Consider going for decorative storage as well. Platters, shelves, and racks can all be made from decorative accent materials and still be exceptionally useful. You can also use accent fabrics and metals on your furniture to help bring your vision together.
In the same vein, using outdoor lighting to help add atmosphere is an amazing way to kick your grill area's style up a notch. Tea lights, lamps, and a fire pit can all be used to add ambiance lighting to your grill area and your seating as well. The addition of several types of lights in various places can add a new twist to the way you see your outdoor area.
Final words
There are many things to consider when you first begin to organize your outdoor grilling area. Finding just the right balance of functional and stylish can be a rewarding challenge.
Depending on the weather conditions in your area, you may even want to create a special covered area for your grill placement. To find out more about benefits of a covered patio, read our post.
You should always keep in mind how your changes or additions will affect how you use your space. There are plenty of things that you can change that will help you use your space more effectively, keep yourself organized, and feel more at home in your outdoor eating space.
Author bio:
Nadya J. is an entrepreneur and a blogger behind a popular website about Allen+Roth brand by Lowe's. She and her husband Brett write about home improvements they do at their home in Raleigh, North Carolina. In their blog, Nadya and Brett share styling and home renovation tips using their favorite brand.