Patio and Beach Umbrellas
Choose From Our Extensive Range of Umbrellas and Umbrella Bases
We have several types of umbrellas to complement your outdoor furniture and accent your patio or pool outdoor living area and landscape. Click on the styles below to see details and pricing for each umbrella type and umbrella base style.
Umbrellas to Match Your Cushions and Slings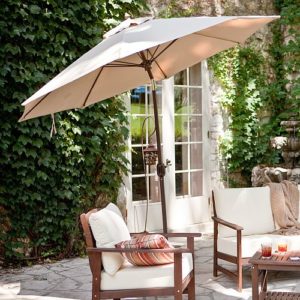 See our range of aluminum and fiberglass umbrellas that can have canopies matching or complementing the fabrics you chose for your patio cushions or slings.
These patio umbrellas come in several sizes, from 7½ feet wide (90 inches), to 11 feet (132 inches) wide.
---
Umbrella Bases and Stands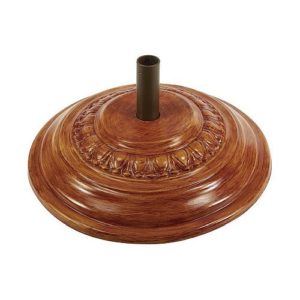 We have several different styles of umbrella bases, in various materials including fiberglass, concrete, plastic and steel.
They also come in a mix of weights, so they can be matched with different sized umbrellas.
---
Commercial Fiberglass Umbrellas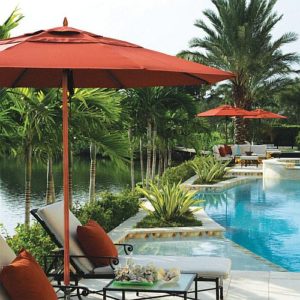 Our commercial patio umbrella range has fiberglass ribs and hubs. they are able to withstand winds up to 50 mph.
They come in a range of styles and sizes, and fabrics include a tough olefin, as well as a comprehensive selection from the world-renowned Sunbrella® outdoor fabric collection.
---
AN IMPORTANT NOTE ABOUT UMBRELLA SIZES
The diameter of umbrellas is measured across the top of the umbrella, over the curve. For this reason, measuring from one side to the other across the underside will result in a measurement that is slightly smaller than the stated size.