Seating Slings for all Furniture Types
Seating slings are a single layer of tough, tightly woven, vinyl outdoor fabric that is stretched between sling rails mounted on the chair frames. The rails have slots (grooves) in them, into which the seamed edges of the sling fabric are slid.
The seams on each side of the slings have a plastic cord, known as a "spline" inserted into them. This is what holds the seamed edges of the sling into the sling rails.
We offer replacement slings for all types of seating – chairs, recliners, ottomans (footstools) and chaise lounges. The brand is not important, as they are all of similar design in terms of replacement. The principles of slinging patio furniture are pretty much the same for all brands. There are two side rails that have a channel [groove] in them, in which the hem of the sling is placed, with a spline [solid round plastic cord] inside the hem that holds the fabric in the channel.
WE DO NOT STOCK ANY SLINGS — THEY ARE ALL MADE TO YOUR SPECIFICATIONS. PLEASE READ THE "HOW TO MEASURE" PAGE BEFORE REMOVING YOUR SLINGS.
How to measure How to remove How to install Sling fabrics Tool rental Sling replacement service
Place Your Seating Sling Order Below
You will enter your sling size(s) in the shopping cart after clicking the "Add to Cart" button.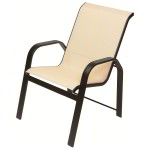 Chair Seating Sling
1 or 2 piece, splines included
---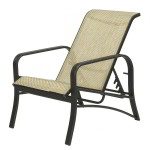 Recliner Seating Slings
1 or 2 piece, splines included
;
---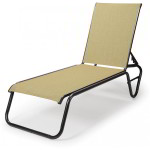 Chaise Lounge Seating Sling
1 or 2 piece, splines included
---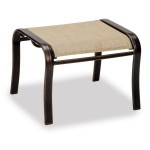 Ottoman Seating Sling
Splines included
---
Please note that finished slings can vary in size as much 1/4″. This is considered within normal tolerances.
IMPORTANT NOTE: We do not make slings for chairs with splines that run horizontally (as opposed to the normal vertical splines). These chairs typically have a curved top and tapered seat bottom. They have proven to be complicated, both in manufacturing replacement slings and also the installation process.  We have also found that there is no standard sizing with these types of chairs and getting them the right size the first time is next to impossible. No two chairs are the same! Most of these chairs were purchased at "big box" stores (Chinese junk) and can typically be replaced for less than the cost of repairs. Do not send us an old sling to use as a pattern. We suggest that you do not invest the time or money attempting to repair this type of furniture. Please take our advice. These chairs are VERY difficult to repair.
Shop online, find the item you need at the right price, and buy using our online shopping cart that shows you the shipping cost before you place your order and make your purchase, and is completely secure.