PVC Patio Furniture Sets
 We've put together a few of the most popular selling outdoor furniture sets to make it easier for you to buy, and to save you money!
Three styles of dinette sets and two styles of bar sets to choose from! And each set is customizable…
All of the frames of these dining sets and bar sets are made in America from strong, high-gloss, furniture-grade PVC pipe for easy care and long life. The table tops and bar tops are made from a core of plywood, fully encased in fiberglass.
All the fabrics are made from durable, hard-wearing vinyl. They resist dirt and stains, and can be left outside in the weather. You can even clean them with a little bleach solution if that becomes necessary!
As a result, you can be sure that which ever set you buy will last for many years.
Each set comprises 4 chairs and a 36″ table.
Options in the shopping cart include all our vinyl fabrics, upgrade to putty pipe color, add extra chairs, select a larger table, add matching umbrella and add an umbrella base.
Sorry, no coupons! Huge discount already applied.
---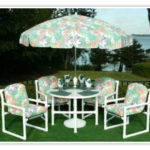 Modern Style Dinette Set
SAVES $80
---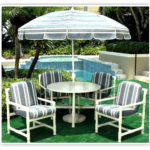 Classic Style Dinette Set
SAVES $90
---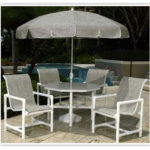 Classic Style Sling Dinette Set
SAVES $101
---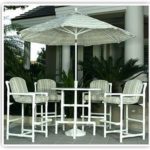 Classic Style Bar Set
SAVES $111
---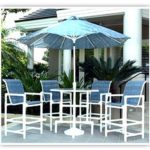 Classic Style Sling Bar Set
SAVES $151
---
No thanks! I'll create my own set