PVC Pipe Furniture for Your Patio or Pool
Quality PVC Furniture at the Best Price
We sell PVC pipe patio furniture from major national manufacturers. This patio, pool and lawn furniture is made from furniture-grade PVC. It has a high-gloss finish and won't crack, peel or fade in ANY environment. Read more about the benefits of selecting PVC pipe lawn furniture for your patio, pool or deck. It's ideal for those on a tight budget, and we offer it at prices better than you'll find anywhere.
PLUS: We have the largest range of outdoor fabrics available on the web – over 400 – so you're bound to find one that suits you!
Choose from Four Styles of Furniture
Not everyone wants patio furniture with cushions. Some prefer fabric slings. Others want to have brightly colored vinyl straps on their pool furniture. That's why we offer everything! Scroll down to view all the frame styles in our collections. Click on any of them to view the complete range of items available in each collection.
---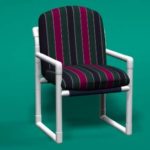 This chair frame style has a flat base, which makes it ideal for use on soft surface areas like lawns and sand. Perfect to take to the beach! It is the lowest priced collection of furniture pieces in our range. All 400+ outdoor fabrics can be used for cushions.
↓
---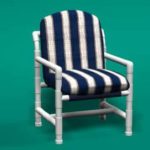 Our "Classic" collection of outdoor furniture is more traditional, with 4 legs and feet, like any regular chair. It can be used on any hard surfaces, and will not scratch synthetic materials or wood decking. Pricing is mid-range, and any of our 400+ outdoor fabrics may be selected for its cushions.
---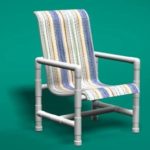 Sling furniture is always popular because of its easy care and quick drying capabilities. The slings are made from tough PVC coated polyester fiber, and are supported in the PVC frames with powder-coated aluminum rails and stainless steel bolts. There are over 100 sling fabrics in our range.
---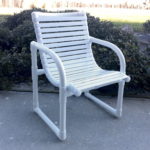 Thick vinyl strapping is used as the seating material in our range of pool furniture with PVC pipe frames. There are about 50 vinyl strap colors to choose from, and you can mix & match colors to suit your outdoor patio or pool area color scheme, or even to support your favorite sports team!
---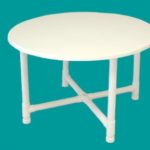 We have a large collection of side tables, coffee tables, dining tables and bar tables, and also a truly weatherproof outdoor bar. All the bases are made with furniture-grade PVC pipe. The table tops have a plywood core which it completely wrapped with thick fiberglass. The tops are quite heavy, and come with or without umbrella holes.
---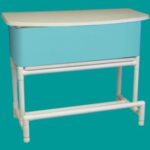 Choose from our wide range of outdoor bar furniture, including bar chairs, bar stools and bar tables
---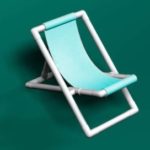 We have a number of useful outdoor items made with the same PVC pipe as the rest of our furniture. Items include beach chairs, serving carts, towel racks, and even PVC pipe fittings in case you need to repair your existing furniture.
---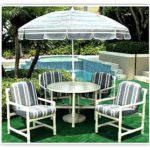 Want to order a complete set of dining or bar furniture, but don't want to take the time to pick out individual pieces? Here we have complete sets in each of our furniture collections, so you can order with just a few clicks. You'll also save some money by ordering these dining table and chair sets, or bar table and chair sets.
---
VIDEO: fabric grades explained VIDEO: what's inside our cushions
Shop online, find the item you need at the right price, and buy using our online shopping cart that shows you the shipping cost before you place your order and make your purchase, and is completely secure.
 IMPORTANT: We will not be undersold.
If you can show us the same advertised product for a lower price, we'll beat it – guaranteed.