Patio Furniture and Fabric Accessories
Check out these products to help keep your outdoor furniture and fabrics looking like new…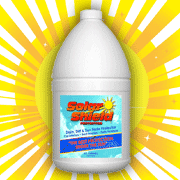 SolarShield® Protects Your Outdoor Fabrics from Fading and Sun Damage
SolarShield's unique formula reduces fading, helps to keep fabrics looking bright, makes them easier to clean, and increases their useful life by blocking the sun's harmful ultraviolet light rays. It's like ScotchGuard® but specially formulated for outdoor use.
---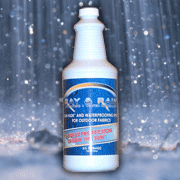 Ray & Rain® Makes Fabrics Waterproof
Stop your awnings and umbrellas from leaking! Waterproof your golf bag and travel bags! Keep your patio cushions dry! Ray & Rain also has some UV protectant qualities. Use caution on cushion fabrics, as they may tend to stiffen a little. Note that 100% waterproofing is not usually achievable due to sewn seams, etc.
---
 
CasualClean® is Perfect for Cleaning Patio Furniture, Cushions and More
This product can even be used to clean your BBQ grill! Gentle on fabrics, but powerful enough to tackle tough dirt on furniture too.
---

Stop Those Annoying Squeaks in Your PVC Patio Furniture!
Squeaking and creaking is a fact of life with PVC pipe patio furniture — but wait! Not any more. Use this dry lubricant to completely eliminate squeaks from your outdoor chairs.