Shower Power Portable PVC Outdoor Shower
This is the perfect choice for homes with swimming pools or homes located near a beach. A lightweight, portable, easy-to-connect outdoor shower that looks good in any location.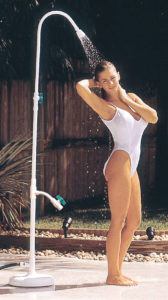 The outdoor portable shower that ends the problem of rinsing off before jumping in the pool or spa, rinsing the salt water or sand off your feet at the dock or after returning from the beach, bathing the dog, or just cooling off on a hot day.
Use our outdoor shower by your swimming pool to shower off before and after swimming. Use it on the exterior of your home so when you get back from the beach you can wash off all the sand and salt. Use it on your dock to clean up after boating. Makes a great gift item.
Features:
Portable, use anywhere, connects to a standard garden hose.

Great for camping, RV, on the dock, by the pool or in the yard

Connects to standard garden hose – saves expensive plumbing installation costs

Weightable 13″ base provides stability

Adjustable swivel shower head provides variable water stream

On/Off valve

Foot Wash Faucet

Approximately 78″ high (70″ at the shower head)

Simple assembly

Tools required – phillips screwdriver

Available in white PVC only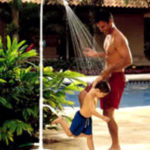 Power Shower Outdoor Shower with Footwash Nozzle