Fabric Samples
Some of our customers like to feel the fabric before they buy furniture. Others want to make sure the color is suitable.
And computers don't always show colors accurately. That's why we offer a fabric swatch sampling service. You can order a sample of your preferred fabric choice(s) for a small charge (postage included), and be certain that your fabric choice is the right one.
After all, your furniture is an investment that will last for many years, and you have to look at it every day! It just makes sense to make a small investment ahead of time to make sure you're making the right decision.
Please note that swatches are available in two sizes. Small swatches are just a few inches and may not include the entire pattern. Large samples allow you to see more of the pattern colors and repeat. Select your preferred size in the shopping cart after adding the item.
To order multiple fabric swatches, first add one to your cart, then click the "Continue Shopping" button to return here and repeat.
Note: Swatches are sent in the mail, even though the shopping cart says FedEx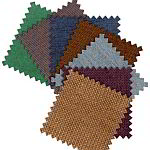 Buy a Fabric Sample
From: $2.95
---
Solid Colors Blended Colors Striped Fabrics Floral Patterns Patterned Fabrics