PVC Pipe Furniture & Teak Furniture
Do you want patio furniture that lasts a LIFETIME in any environment?
If you live in an area where rust and corrosion is an issue, outdoor furniture made from furniture-grade PVC Pipe or Natural Teak Hardwood is a great choice.

PVC Patio Furniture
[the most durable outdoor furniture on the planet]
Teak Patio Furniture
[beauty & quality in a range of styles]
Replacement slings
[for all furniture brands]
Replacement vinyl strap
[make your pool furniture like new again]
Patio umbrellas
[to match your patio furniture]
Over 400 outdoor fabrics
[including the full Sunbrella collection]
View PVC Patio Furniture View Teak Furniture View Accessory Items Need Cushions Only?
Do you want outdoor furniture that's easy to care for? With our wide variety of PVC and teak outdoor furniture styles, you'll find a perfect solution to make your deck, patio or pool area attractive and fun. Choose from cushions, slings, or vinyl strap seating.
NOBODY OFFERS MORE FABRICS THAN US – OVER 400 CHOICES!
Match your outdoor area decor with the largest and newest range of over 400 outdoor fabric choices, or 50 vinyl strap colors! All our fabrics are designed to resist wear and retain form and beauty. Fabrics like Olefin, Textiline, Vinyl Jacquard, Acrylic, and Polyester, and brand names like Sunbrella®.
PVC Pipe Strength and Colors Bring Your Patio to Life
You can choose from two designer colors for PVC outdoor chair frames. Choose from classic high-gloss white or the sophisticated bone (putty) color.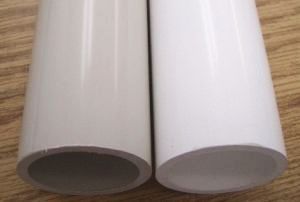 The material used is furniture-grade PVC. That means it's not only a high gloss finish, but it's protected against deterioration from harmful UV sunlight. So you can be sure your PVC patio tables, chairs, lounge chairs and bar tables will not only retain their form and beauty, but will also last for many years to come.
These products won't chip, rust, crack, stain, peel or corrode.
Our furniture is crafted to last well over twenty years!
PROUDLY MADE IN THE USA
All the PVC pipe furniture we sell is made with pride in the United States of America by Americans, using American made materials. We don't sell cheap imported products that offer no solid guarantees and no replacement parts. You can get that junk elsewhere!
At Pipefine Patio, we understand your leisure time with family and friends is invaluable and that you want to enjoy comfortable, high quality casual seating for years to come. You'll see the PVC lawn & garden products we sell at major hotels, resorts, clubs and condos, as well as at your neighbor's pool. Choose from dozens of design options and colors in the extensive cushion and sling and strap range that includes outdoor bar chairs and bar stools, patio dining chairs, recliners, chaise lounges, and more…
Click here to get an instant savings coupon!
Note: there is no Pipeline Patio Furniture–that's us: Pipefine (with an "F")!